ANTHROPOGENIC IMPACTS ON THE MORPHOLOGICAL EVOLUTION OF THE PACOTI ESTUARY, NORTHEAST BRAZIL
Palavras-chave:
Estuary, . Dunes, Pacoti River, Anthropization
Resumo
The problem of anthropogenic occupation on the banks of estuaries and rivers has been a factor of concern and frequently
addressed around the world. In the State of Ceará, this problem has been persistent, despite the reasonable environmental
legislation dealing with this issue. Along the Pacoti River Estuary, this problem was addressed in this study and added to the
analysis of the wind action in the evolution of this coastal environment. Thus, direct and indirect methods were applied, mainly
based on field work and remote sensing based in the use of tools from a GIS platform. The results show persistent and
continuous participation of aeolian activity, notably dunes migration, in the evolution process of this estuary. Additionally,
human interference over 63 years, whether in the form of exploitation of natural resources and/or urban occupation on the
banks of the estuary and in the possible area of expansion of this environment, has produced serious environmental damage
and restricted the natural area of this important coastal ecosystem. This process of environmental degradation was largely
accelerated from the occupation of the area to the east of the estuary by the Beach Park development, and to the west by the
Alphaville Residential Condominium.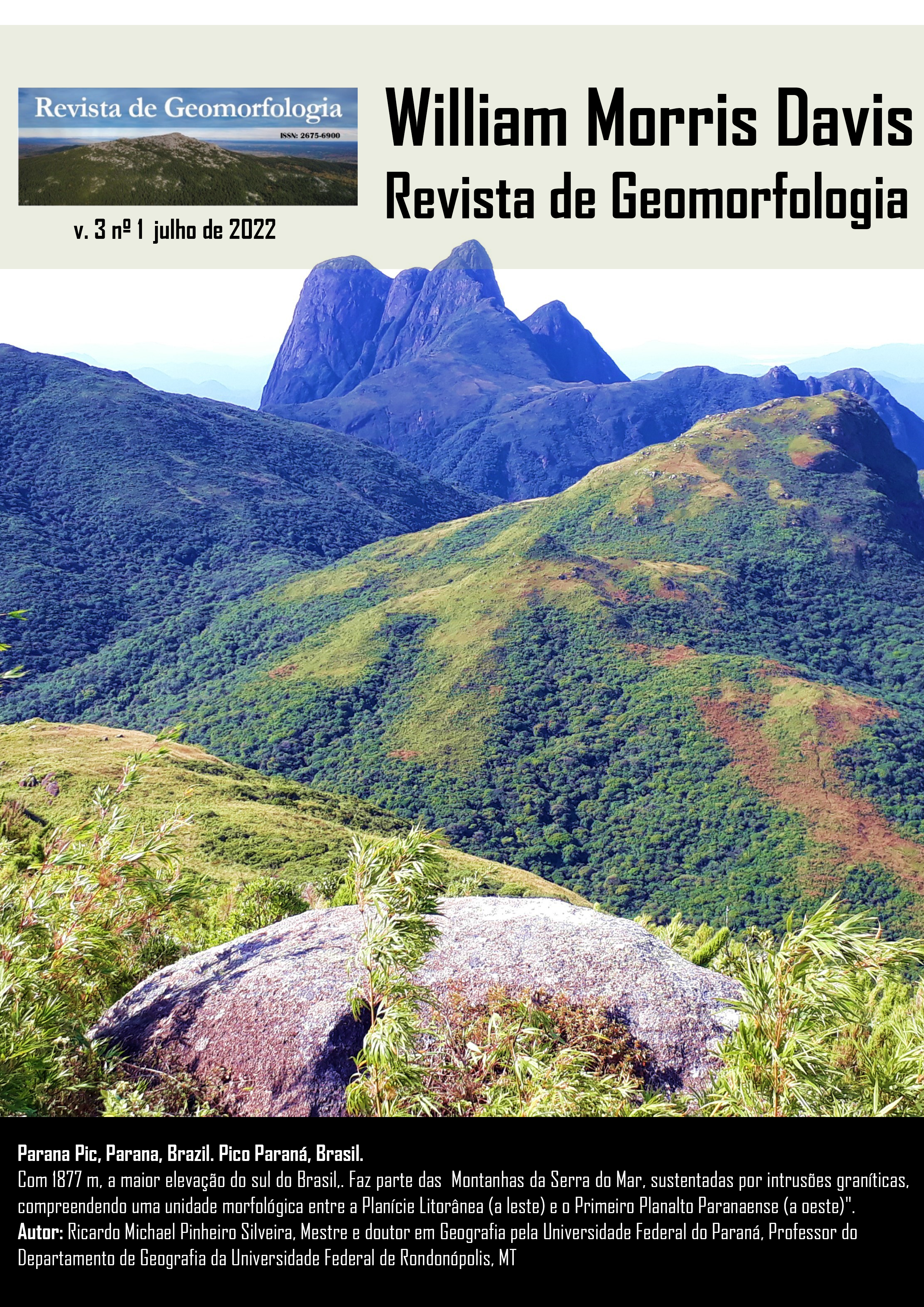 Downloads
Como Citar
MEDEIROS DE CARVALHO, A. ., CLAUDINO-SALES, V., GLEIDSON DA COSTA GASTÃO, F., TEIXEIRA DE OLIVEIRA, M., DE SOUSA AGUIAR, E., MARIA PATRÍCIO SOUSA, D., & DE SOUZA PINHEIRO, L. (2022). ANTHROPOGENIC IMPACTS ON THE MORPHOLOGICAL EVOLUTION OF THE PACOTI ESTUARY, NORTHEAST BRAZIL. William Morris Davis - Revista De Geomorfologia, 3(1), 1–13. https://doi.org/10.48025/ISSN2675-6900.v3n1.2022.142
Licença
This work is licensed under a Creative Commons Attribution 4.0 International License.
Autores que publicam nesta revista concordam com os seguintes termos:
Autores mantêm os direitos autorais e concedem à William Morris Davis o direito de primeira publicação, com o trabalho simultaneamente licenciado sob a Creative Commons Attribution License (CC-BY 4.0), que permite o compartilhamento do trabalho com reconhecimento da autoria do trabalho e publicação inicial nesta revista.
Autores têm autorização para assumir contratos adicionais separadamente, para distribuição não-exclusiva da versão do trabalho publicada nesta revista (ex.: publicar em repositório institucional ou como capítulo de livro), com reconhecimento de autoria e publicação inicial nesta revista.
Autores têm permissão e são estimulados a publicar e distribuir seu trabalho online (ex.: em repositórios institucionais ou na sua página pessoal) após o processo editorial, já que isso pode aumentar o impacto e a citação do trabalho publicado (Veja O Efeito do Acesso Livre).
Autores são responsáveis pelo conteúdo constante no manuscrito publicado na revista.